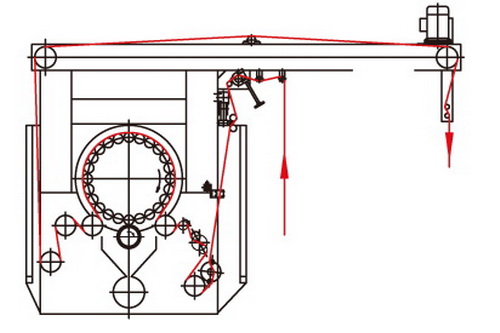 Application
This machine is suitable for surface raising of tubular and open width knitting fabrics, which adopted intelligent controlling board with touch-screen display.
The raising element can be adjusted in a large scale, including drum speeed, fabric speed, fabric tension, raising intensity, which is controlled by a monitor unit. This machine provides the flexbity to develop all kinds of fabric.
Main features
1.Controlled by man-machine conversation, PLC, inverter, the characteristic of process reappearing is very good.
2.Adopted large diameter roller, with the structure of helical gear transmission, in big transmit power, low-noise and high efficient.
3.The clutch device is setted in the roller driving chain to avoid the damagement to the fabric.
4.Brushing roller has the function of cleaning card automatically.
5.The fabric tension is controlled by four motors, easy for adjustment.
6.Driving system with inverter-controlled multi motors,terse in structure, easy in maintenance.
7.Drum speed, fabric speed, fabric tension, speed of raising rollers can be adjusted variably in large scope.
8.Set up the parameter in running, zero starting, automatic fabric feeding and reverting are available.
9.Trouble alarm and diagnosis are available.
10. Assembled six spreading rollers at most to suit different requests of fabric spreading is possible.
11. Operation buttons are on both fore and rear side of the machine.
Main data:
Items Data
Nominal width (mm) 2000 2500 2800
Fabric speed (m/min) 10~40(variable)
Drum speed (r/min) 85~110(variable)
Raising roller diameter (mm) φ70
Number of raising roller (pcs) 24(12pile and & 12counter pile)
Motor power (not include dust exhaustor) (kw) 28.65
Overall dimensions (L×W×H) (mm) 4110×3870×2915 4110×4070×2915 4110×4370×2915